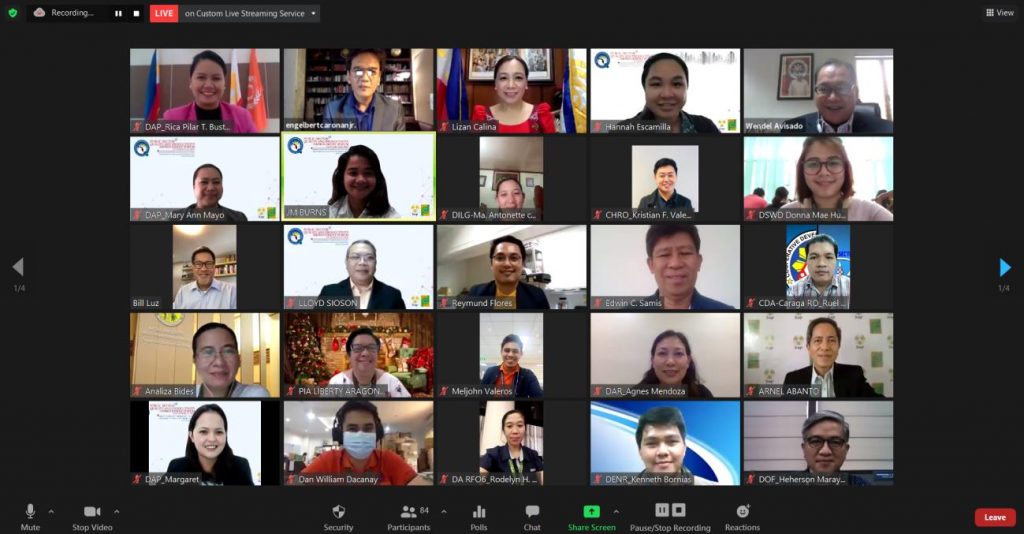 The photo shows some of the participants and speakers together with DAP President and Chief Executive Officer Engelbert C. Caronan, Jr., (first row, second from left), DAP Senior Vice President and Dean Lizan Perante-Calina (first row, third from left), GQMC Chairperson and DBM Secretary Wendel E. Avisado (first row, rightmost), and DAP Vice President Arnel D. Abanto (fourth row, rightmost) during the Opening Ceremony of the Public Sector Quality and Productivity and Improvement Forum held last December 15-16 via a virtual platform.
The Chairperson of the Government Quality Management Committee (GQMC) and Department of Budget and Management Secretary Wendel E. Avisado urged the public servants to intently look at the motivation, goals, and processes behind a smart government during the Public Sector Quality and Productivity Improvement Forum. Organized by the Development Academy of the Philippines (DAP), the forum was held on December 15-16 via a virtual platform with the theme, "Smarter Government through Effective Quality Management System (QMS): Responding to COVID-19 and Rethinking Public Service Delivery."
"I hope that through this forum, the GQMP's vision of seeing the QMS in every government agency to continually evolve and reinvent approaches, tools, and techniques will come into form for it to be able to proactively address the needs of the public and achieve citizen participation in the way the government delivers its mandate," GQMC Chairperson Avisado added.
DAP President and Chief Executive Officer Engelbert C. Caronan, Jr., in his opening remarks, emphasized to the participants the need to build a public sector that is ready and fit for the future. "Let us be reminded once again of the value of consistently revisiting, reformulating, and adapting wellcoordinated institutional frameworks to fulfill our mandate as public servants," President Caronan continued, as he stressed the importance of deploying new thinking, innovation, bold collaboration, and tremendous flexibility in every government's management system to springboard into the future.
Meanwhile, Vice President of the Republic of the Philippines Maria Leonor "Leni" Robredo, who served as the keynote speaker, pointed out that innovation presents the best way forward if the public sector aims to emerge stronger from the current unprecedented crisis. "I hope you continue to find more ways to innovate and collaborate even more deeply so that we create not only a smarter public service delivery but a fairer, kinder, more humane nation," VP Robredo declared.
The two-day forum participated in by some 567 representatives from the private and public sectors, highlighted a range of topics on the Responses to COVID-19 through Public Service Continuity; Rethinking Public Service Delivery through Innovation; panel discussions on Foresight Thinking in the Public Sector – Looking forward to opportunities post-Covid 19; and, Impact, Opportunities, and Challenges of Innovating Public Service Delivery.
The speakers during the first segment of the forum, titled "Smarter QMS: Responding to Disruptions through Public Service Continuity," were National Economic and Development Authority Assistant Secretary Carlos Bernardo O. Abad Santos, United Nations Development Programme Strategy and Foresight Advisor Aarathi Krishnan, and Office of Civil Defense Training Specialist Hannah Grace A. Escamilla.
Moreover, the second segment that covered topics on Smarter QMS: Rethinking Public Service through Innovation were presented by the Department of Information and Communications Technology Director Aida C. Yuvienco, Department of Transportation Transport Planning Specialist Joemier D. Pontawe, and Department of Science and Technology – Philippine Council for Industry, Energy and Emerging Technology Research and Development Executive Director Enrico C. Paringit.
In closing, DAP Senior Vice President Magdalena L. Mendoza shared the launching of the Community of Practice through Facebook for the QMS practitioners in the Philippines. The online platform will serve as an avenue for QMS core team members, leaders, trainers, and auditors to share each other's experiences leading to co-creation of quality innovations.
The Government Quality Management Program aims to enhance citizen satisfaction and public sector productivity through government-wide quality improvement. It envisions taking a great leap in its priorities by leveling up its quality improvement initiatives and focusing on enhancing citizen satisfaction by 2022. Further, it builds capacities in fostering quality across public sector organizations. – Jeannalla Burns